Fiat Voluntas Tua - God wills our holiness...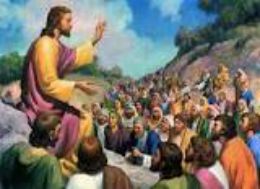 Jesus Sermon from the Mountain (Mt. 5)


Concluding his great sermon from the mount in Matthew 5 Jesus calls everyone to be holy and perfect because our Father in heaven is holy and perfect. Mt. 5:48 Our blessed Lord there echoes Leviticus 19:2 which called Israel to holiness because Israel's God is holy. The Holy Spirit shows us why in Isaiah chapter 6 where the prophet finds himself before God's throne and perceives God's holiness, which is the adorable will of our God whose very nature is being, itself. Isaiah is justly terrified being a finite creature in such presence, until God mercifully willed his angel to touch the prophet's lips with a burning ember symbolizing that only God himself can make us holy.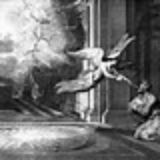 God's angel touches Isaiah's lips with a live coal. (Isa. 6:7)



In the New Covenant of our Redemption in Jesus Blood, He has given us Seven Sacraments as his means to make us holy. Beginning with the indwelling in our souls by the Holy Spirit at Baptism we are infused with Faith, Hope and Charity to draw us into the very life of God, and Prudence, Justice, Fortitude and Temperance to help us relate to ourselves and to our neighbor in the Love of Christ. The Holy Spirit helps us in this with his gifts of Wisdom, Understanding, Counsel, Fortitude Knowledge, Piety and Fear of God with Confirmation. Especially helpful as we prepare for Easter is the Sacrament of Penance to obtain forgiveness of serious sins and frequent reception of Jesus in Holy Eucharist to nourish our Faith in God and Love for Jesus and all our neighbors. But as God's Church we have continually fallen short of God's goal in first creating us and then in redeeming us: perfect holiness. In formally approved apparitions to the Servant of God, Luisa Piccarreta, Jesus has revealed our Father's intention to add to the Divine Fiats of Creation and Redemption, our Sanctification by the Holy Spirit.





The Servant of God, Luisa Piccarreta



In 36 volumes of "The Book of Heaven" Jesus gave Luisa a clear understanding of the biblical history of our salvation. He patiently explains to her how Creation is the loving work of God's Supreme Will in which God's own life flows into all creatures. In Adam the adorable Divine Will expressed its power, love and mastery, making him a little god over creation intended to live at once the life of a man and the life of God's Divine Will, to keep him beautiful, fresh and happy as the Divine Will had created him. But when man sinned God's adorable Divine Will felt the life She carried being torn away from Her bosom. How great was her sorrow, feeling the emptiness her rebellious child left within her. So the adorable Divine Will was made flesh to seek out and find Her child who had become lost, to redeem him. Just as in Creation the adorable Divine Will spoke and created, so in Redemption She willed and incarnated Herself. In Jesus own words to Luisa: "It was Her empty bosom that reclaimed this child who had broken away with so much cruelty. What more could My Will have done in Redemption? Ah, but She is not yet happy with what she did. She wants to fill the emptiness. She no longer wants to see man disfigured by sin, by his dissimilarity to Her. She wants to see him adorned with the insignia of Creation, adorned with Its beauty and sanctity, and She wants him to take his place once more at Her Divine bosom. This is the meaning of 'Fiat Voluntas tua,' 'Thy will be done on earth as it is in heaven' – that man return into My Divine Will. Only then will She become calm – when She sees her child happy, living in his own home, enjoying the fullness of his blessings. And then She will be able to say: 'My child has come back; he is clothed with his royal robes; he wears his kingly crown; and he lives in his life with Me. I have given him back the rights that I gave him when I created him. And, so, the disorder in Creation has come to an end – because man has come back into My Divine Will." ("Saints in the Divine Will" pages 25-28, from the works of the Servant of God, Luisa Piccarreta, by Fr. Sergio Pellegrini, commissioned and approved by Archbishop G. B. Pichierri of Trani, Italy)



This coming "Life of the Divine Will" in creatures will be the work of the Holy Spirit in this "New Age of Sanctification." Those who are drawn to learn more of this Third Fiat of God: Sanctification, may go to www.bookofheaven.org, and to http://www.comingofthekingdom.org/credibility/bios/thomas-fahy/ .