The Infant Jesus speaks to Marija Pavlovic-Lunetti in Medjugorje on Christmas, 2012:

"I am your Peace. Live my Commandments!"

an essay by Fr. Jim Anderson, M.S.A.




Where we think we should go from here depends on where we think we are now and how we think we got here. I put this question in a spiritual, collective sense to refer to our Church, our country and our world, believing from the biblical record of salvation history that these are inter-dependent.



Some account for the Republican loss of the United States 2012 general election by claiming that the Democrats: were better organized down to the precinct level and motivated many voters by personal gifts and promised personal benefits; registered significant numbers of non-citizens illegally; and manipulated voting machines. Others believe that a significant number of conservative Republicans stayed home or voted third party because their views and candidates were manipulated out of the nomination process. Still others think that the globalist Brotherhood of Darkness (Bilderbergers, Skull and Bones, upper echelons of some secret societies, et al) manipulated the factors of the election process that they can control to favor the election of candidates that they can more easily manipulate and intimidate to implement their globalist agenda (media, polls, prices, et al). And there are other claims. While these may be factors, I believe from the history of salvation that we get the leaders we deserve.



The last 150 years have seen the nearly complete success of a deliberate agenda to remove our Judeo-Christian God from our lives by court decisions and legislation; by emplacing pseudo-scientific accounts of origins (everything comes from nothing) that are enforced as boilerplate (cannot be challenged in any classroom or scholarly publication) in all levels of public and even private education; by maligning the Mosaic law of life and love as theistic and therefore invalidly authoritative, and replacing it with humanly invented moral systems and really perverse doctrines of human social and sexual behavior based on the claimed authority of political correctness (moral authority comes from nothing). Thus, in our collective name our political, judicial and educational leaders have repudiated our Judeo-Christian God and his law of life and love, and have been inculcating that repudiation into the minds and hearts of our children for generations! Exhaustively researched proof of this can be found, inter alia, in Dr. Stanley Monteith's The Brotherhood of Darkness, Ted Flynn's Hope of the Wicked, Fr. Paul Kramer's The Mystery of Iniquity, William Dembski's The Design Revolution, Jonathan Wells' Icons of Evolution, and Guillermo Gonzalez and Jay Richards' The Privileged Planet. More than a rejection and repudiation, this is an active rebellion against the Most Holy Creator and Father of us all, done in our name, by the (non) authority of political correctness. Since we Catholics with our fellow Americans have again (seemingly) validated this system in the general election of 2012, what must we expect God to do?



In Numbers 23-24 King Balak of Moab pays the soothsayer Balaam to curse Israel to lose an upcoming battle, but Balaam fails because God will not permit it, wanting only to bless Israel. Instead Balaam sins against God's will by instructing Balak to lure Israel into grievous sins, thereby in effect cursing themselves and incurring God's punishment.


King Balak of Moab hires soothsayer Balaam to curse Israel.




Jesus warns the Church in Pergamum against this "Sin of Balaam" in Revelation 2:14: "… I have a few things against you: You have people there who hold to the teaching of Balaam, who taught Balak to entice the Israelites to sin by eating food sacrificed to idols and by committing sexual immorality." While those who practice the Sin of Balaam by leading us into grievous sins will themselves be condemned, God has prepared a most severe punishment for us as well because they are our sins.



The Vatican has still not fully revealed the 3rd Part of the Secret of Fatima, which, consistently with Parts 1 and 2, undoubtedly reveals more concerning divine punishment for our sins. (See Christopher Ferrara's The Secret Still Hidden and Antonio Socci's The Fourth Secret of Fatima). Yet Heaven has not ceased warning us with increasing urgency that for our unrepentant sins a most severe punishment is now certain and imminent. We will consider here only the urgent (and final) warnings given at Fatima, Garabandal, Akita and Medjugorje.



At about 10:30 pm on 19 June 1962 the Blessed Mother showed four young seers at Garabandal, Spain a terrifying vision of a bloody persecution of the Church that left them screaming. She later explained that what they were shown was part of a coming Communist domination of the whole world that would begin with a surprise attack on Europe by Russia. The next night she showed them an even more terrifying vision of the final Chastisement by God if men revolted against God again. (See From Fatima to Russia on this website under Home and Communist Tribulation).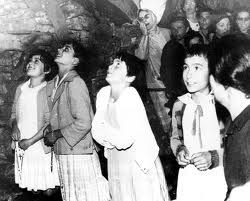 1st Picture: Conchita, Mary Cruz, Jacinta and Mary Loli at age 12
On 13 October 1973, an anniversary of the Miracle of the Sun at Fatima in 1917, our Blessed Mother gave a similar warning to Sister Agnes Sasagawa at Akita, Japan. The messages warned of chaos within the Church, and disasters which would afflict the world. As if Heaven wished to emphasize and reissue this warning, the epicenter of the 11 March 2011 magnitude 8.8 Japanese earthquake was very near Akita and major nuclear power facilities in northwestern Japan. The Catholic News Agency summarizes the 1973 Akita warning: "'If men do not repent and better themselves, God the Father will inflict a terrible punishment on all humanity,' Mary reportedly told Sr. Agnes. 'It will be a punishment greater than the (biblical) flood, such as never seen before…Fire will fall from the sky and will wipe out a great part of humanity, the good as well as the bad, sparing neither priests nor faithful,' she said. 'The work of the devil will infiltrate even into the Church, in such a way that one will see cardinals opposing cardinals, bishops against bishops…Churches and altars will be sacked. The Church will be full of those who accept compromises, and the demon will press many priests and consecrated souls to leave the service of the Lord….Each day, recite the prayers of the Rosary,' she told Sr. Agnes. 'With the Rosary, pray for the Pope, the bishops and priests.'" (http://www.catholicnewsagency.com/news/japanese-quakes-epicenter-located-near-marian-apparition-site/)


Sister Agnes Sasgawa


Marija Pavlovic-Lunetti of Medjugorje reports that on Christmas, 25 December 2012, "Our Lady came with little Jesus in her arms and she did not give a message, but little Jesus began to speak and [with great authority] said: 'I am your peace, live my commandments.' With a sign of the cross, Our Lady and little Jesus blessed us together." (http://medjugorje.org/messagesall.htm)


Marija Pavlovic-Lunetti




Like the Sin of Balaam, the agenda of the Brotherhood of Darkness against our Judeo-Christian God and his law of life and love has led generations to curse our world by unrepentant sin for which it has been punished by continuous war and natural tragedies. Trusting in ever more restrictive human laws at home (Patriot Act, TSA screening, gun control/confiscation, indefinite internment of political opponents labeled terrorists, et al) and in international treaties has never and cannot ever bring real peace and security because without Jesus man, himself, is the problem. Witness the bloody civil wars in England, our United States, Russia and more recently in Spain. These were not between countries but among countrymen. Why should the globalists expect their planned One World Government, even when backed up by a One World Church accepting every possible belief and practice, to bring any peace other than the peace of the graveyard after they have silenced all opposition? Did not Adolph Hitler's own men attempt to kill him, even although the Nazi Party had confiscated all the guns and controlled all media and communications?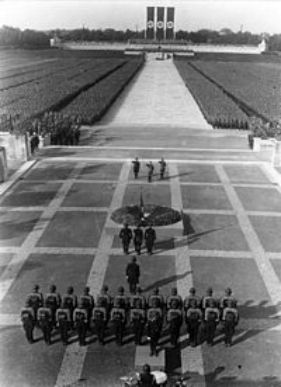 Nazi Party Youth Rally, Nuremberg, Germany, 1933




Only Jesus is Peace, and He has promised to make all things new. (Rev. 21:5) Is it not clear and urgent from these signs of our times that all people answer Jesus' call to go to him and to live his commandments now in order to enter and partake of the Peace and abundance that he is? (1 John 5:12) We must make peace now with our awesome Judeo-Christian God who is all LOVE, all MERCY, all POWER and all JUSTICE; and we must obey now His plan to bring His peace to our world.


On 13 July 1917 the Queen of Heaven communicated to 3 young shepherds at Fatima, Portugal Heaven's plan to save sinners and bring Jesus' Peace to us by establishing devotion to the Immaculate Heart of Mary in our world.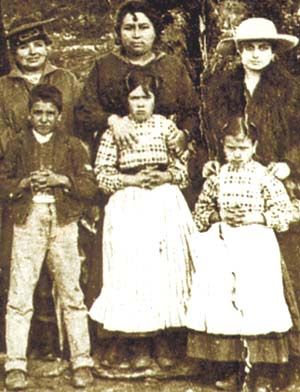 Francisco, Lucia and Jacinta, 1917


The two necessary and sufficient conditions given for Heaven to bring Jesus' peace to the world and to save sinners are: (1) That the Holy Father, with his bishops, solemnly consecrate Russia to the Immaculate Heart of Mary; and (2)That the Church perform 1st Saturday Eucharistic devotions of reparation for sins committed against the Immaculate Heart of Mary. (Sr. Lucia's Fatima in Lucia's Own Words, 4th Memoir) In 1930 Jesus explained to Sister Lucia that people offend and blaspheme against the Immaculate Heart of Mary by denying her Immaculate Conception, her virginity, and her Divine Maternity; by refusing to accept her as the Mother of all mankind; by seeking to implant in children's hearts indifference, contempt, and even hatred against this Immaculate Mother; and by insulting her directly in her sacred images. The basis for this Catholic belief and devotion to the Immaculate Heart of Mary is reviewed in The Vatican's The Message of Fatima: the Sodano Intervention, on this website under Home.



Some defend their lack of attention to Fatima by claiming that those apparitions are only private revelation intended for the shepherd children personally. On the contrary, this prophetic message to these young shepherds, Jacinta and Francisco Marto and their cousin Lucia dos Santos, was given for the Church and the world. It is no more simply private revelation intended only for the children than the message given by God's angel to the shepherds at Bethlehem or the supernatural star that led the wise kings from the East to Jesus were simply private revelation given for the shepherds and the kings, alone. (Lk. 2:10-14; Mt. 2:1-12)




An angel leads the shepherds to Jesus, for us!



A star lead the kings to Jesus, for us!



As the supernatural star that led the wise kings to Bethlehem to worship the King of Kings was for all men, so the supernatural Miracle of the Sun, gyrating and rushing blood-red toward the earth, witnessed by 70,000 terrified persons at Fatima on 13 October 1917 signaled that the Message of Fatima was public, for the Church and the world. That this unnatural solar phenomenon was an actual supernatural event and not a mass hallucination is proven by the physical evidence of complete drying out of the rain-soaked landscape, and of the drying out and cleaning of the rain-soaked and muddy shoes, clothes and bodies of those present. These details were related by witnesses of the miracle to relatives who are still living now in 2013, as well as in European (but not U.S.) newspaper accounts, particularly Lisbon's major daily, O'Seculo.



On 13 October 1917 70,000 witness a blood-red Sun gyrating threateningly toward the Earth!


On 13 June 1929 Jesus and Mary both appeared to Lucia, then a Sister of St. Dorothy, in the chapel of their convent in Tuy, Spain, and told her the time had come to communicate to the Holy Father Heaven's request that he, with his bishops, solemnly consecrate Russia to Mary's Immaculate Heart and lead the Church in the 1st Saturday devotions of reparation for sin. She did so through her bishop and her spiritual director. The Holy Father, Pius XI, replied that such a significant message, if from God, would have been given directly to him as pontiff. Notwithstanding claims to the contrary, the evidence is clear that seven popes have failed to heed Heaven's command. (See, inter alia, Antonio Socci's The Fourth Secret of Fatima; John Salza and Robert Sungenis' The Consecration of Russia; Christopher A. Ferrara's False Friends of Fatima; and From Fatima to Russia, on this website under Home)

With increased urgency we must continue to pray and fast that our Holy Father, Benedict XVI, will with faith and courage fulfill Heaven's 1st necessary condition for the real peace of Jesus Christ to come to our world by solemnly consecrating with his bishops Russia to the Immaculate Heart of Mary. In 1931, after the 1st papal refusal by Pius XI, Jesus sadly told Sister Lucia in the little stone chapel near the sea in Rainjo, Spain, that they (meaning the popes) don't want to do what is asked. But they will do it late and they will suffer the same misfortunes as befell the king of France. We know that 100 years after "The Sun King" Louis XIV did not consecrate France to Jesus' Sacred Heart for Heaven's protection, as requested by Heaven through St. Margaret Mary Alacoque, his grandson Louis XVI was guillotined as the revolutionaries began their godless attack on Catholic Europe that continues to this day.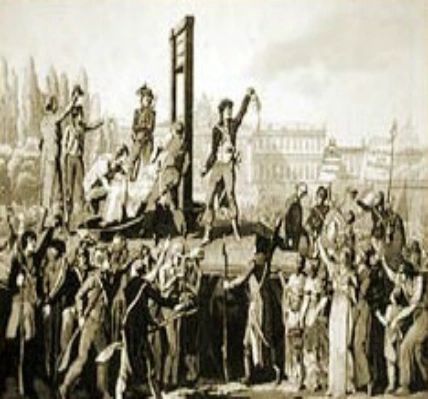 Mass executions during the frenzy of the French Revolution




There are many false friends, and perhaps some enemies, of the Message of Fatima within the Church who seem willing to say or do anything to prevent this consecration. (See The Vatican's The Message of Fatima: The Sodano Intervention on this website under Home) There is certainly intense pressure from these, as well as from the protagonists of Vatican Ostpolitik (dialoguing with the formerly Communist eastern European regimes) and those who believe they are constrained by the secret Vatican-Moscow (Metz, France) agreement of 18 August 1962. There Cardinal Tisserant for the Holy Father John XXIII agreed with Bishop Nikodem for the Russian Orthodox Patriarch of Moscow that the bishops at Vatican II would not [be given the opportunity to] discuss Russia or Communism, thereby precluding divine guidance in the Council regarding these crucial issues for the Church (and Heaven's pending request for the papal and episcopal consecration of Russia), in consideration for the Soviets and the Russian Orthodox church permitting two Russian Orthodox priests to attend Vatican II as observers. (See Frère François de Marie des Anges' Fatima: Tragedy and Triumph) It is also clear that some leaders of the Russian Orthodox church will oppose any move by Benedict XVI to do so, as they opposed the sincere desire of John Paul II. But perhaps the most significant factor opposing the Holy Father's attending to these two necessary and sufficient conditions for the coming Peace of Jesus by the Triumph of the Immaculate Heart of Mary is the Mystery of Iniquity that Paul mentions in 2 Thessalonians 2:7 being already at work in the world, and what Sister Lucia referred to as a Diabolical Disorientation within the Church. (See Frere Michel de la Sainte Trinite's The Whole Truth About Fatima, Vol. III; and Fr. Paul Kramer's The Mystery of Iniquity) Lucifer knows that had the consecration and 1st Saturday reparatory devotions been attended to in 1929 when requested by Heaven, the conversion of Russia, the Triumph of the Immaculate Heart of Mary and the Era of Peace would have occurred and his Brotherhood of Darkness would have been finished.



Jesus told Sister Lucia that it will never be too late for the consecration to be done. Because of unrepentant sins our punishment is certain and imminent, and will come suddenly and unexpectedly. (See T. Michael Fahy's Suddenly and Unexpectedly, 423-566-5178) But Jesus still stands at the door to each heart and knocks with His Sacred and Merciful Heart waiting for us to repent and live his commandments. The Blessed Mother has told the seers at Garabandal that Jesus, himself, will end the coming persecution with a great sign and His universal Warning (a simultaneous revealing and correcting of individual consciences); and then within a year will perform his greatest miracle in the Pines above Garabandal.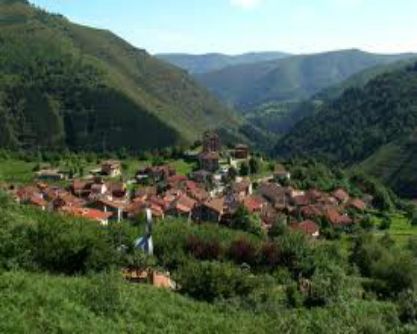 The village of San Sebastian de Garabandal


One can conclude that there will then be little resistance to the papal and episcopal consecration of Russia and a world-wide conversion. Only should the world again rebel, would God respond with the final Chastisement. (See the comprehensive and excellent pamphlet, Garabandal, recently published in English and Spanish by The Garabandal Journal, P.O. Box 1796, St. Cloud, MN 56302-1796)



We are not without weapons in this spiritual warfare. But we cannot sit idly by waiting for others to lead us. Individuals, families, prayer groups and parishes can do much to mitigate God's punishment and to obtain the grace for individual souls to repent and be saved. Our Blessed Mother calls us to pray, pray, pray… and especially the Holy Rosary. We can turn to Jesus, our Peace, by living his commandments that he summarizes as loving God with our whole heart, mind and soul, and our neighbor as ourselves from love for Him. We can strengthen our resistance to temptation by frequent sacramental confession and regular participation at Holy Mass with prayerful intimacy with Jesus in the Holy Eucharist. We can support our pastors by attending 1st Friday masses of the Sacred Heart of Jesus followed by Saturday masses in reparation for sins against the Immaculate Heart of Mary, and all sin. We can regularly read and meditate on the Gospels, New Testament Letters, and The Revelation to John. We can become more intimate with our beloved Jesus. Consider his Passion in St. John's Gospel out of Love for His Father and for each of us, his lambs, and fall more deeply in love with Him. That is why He created each of us. Neither Jesus nor our heavenly Father wills to lose any of us. (Mt. 18:14) But with St. Paul we, ourselves, must run this race of life like we expect to win,… and we will win! (1 Cor. 9:24-27)