Holy Week, Easter, and Divine Mercy Sunday
Consider how thy Jesus, after three hours of agony on the cross, consumed at length with anguish, abandons Himself to the weight of his body, bows His head, and dies:
Let me share His pain; Who for all our sins was slain; Who for me in torments died!
(From Saint Alphonsus Ligouri's Way of the Cross, and the Stabat Mater)
"Jesus said to her, 'Mary,...do not hold me, for I have not yet ascended to the Father; but go to my brethren and say to them, I am ascending to my Father and your Father, to my God and your God.'" John 20:16-17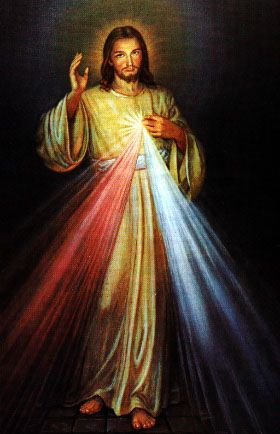 Saint Faustina Kowalska was commissioned by Jesus to spend her life spreading His message of Divine Mercy for each person and for all humanity. He showed Himself to her with red and white rays of light coming from His Sacred Heart and asking that a painting of Himself as in the vision be made with the caption:
"Jesus, I trust in you!"
He told her that
"I desire that my Mercy be worshiped, and I am giving mankind the last hope of salvation; that is recourse to My Mercy. My Heart rejoices in this feast!" (From her Divine Mercy in My Soul at number 998)